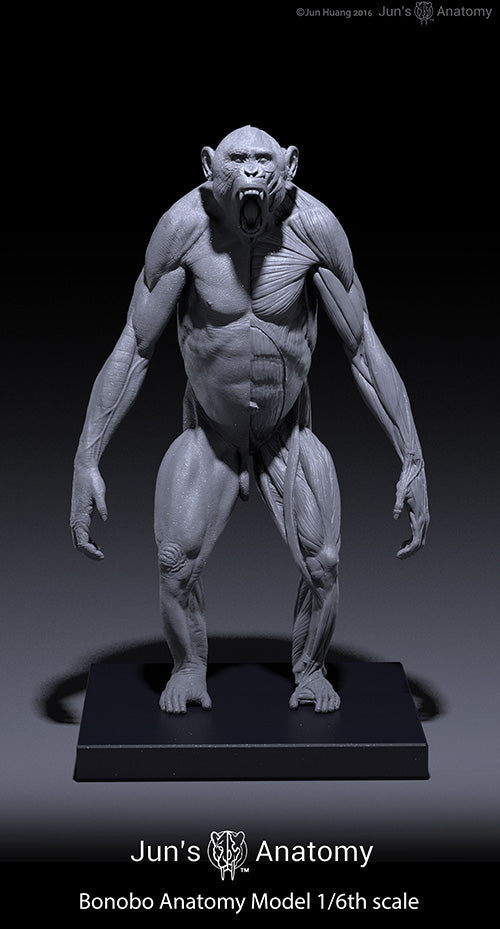 Bonobo Anatomy Model 1/6th scale
Note* Due to fluctuation in high cost of shipping costs, shipping charges may seem high, there maybe an initial overcharge actual shipping cost, I will continue to work with my dropshipper to recalculate shipping cost with every order and will continue refund any excess funds, it may take a bit of time.  Thank you for your patience!
The Bonobo model is made to 1/6th scale, representing one of the the largest animals in the species Pan paniscus, other common names includes pygmy chimpanzee, reaching over 5 ft in height , though the average size is around 4 ft.  This desktop size model is approximately 12" tall, it shows superficial muscle on one side, surface anatomy on the other side. This bonobo écorché is one of seven models in the "Human & Great Apes anatomy écorché".  This size of an anatomy tool is perfect as a desktop reference of as an animal anatomy for the artist; the size is design for ease of handling, for teaching, or study.  

Note* mouth-open "roar" head and plinth sold separately.  
colors: neutral grey             approximate size: 10" x 4" x 5" (including the base)
original sculpture designed, sculpted, and painted by Jun Huang
The bonobo is commonly considered to be more gracile than the common chimpanzee. Although large male chimpanzees can exceed any bonobo in bulk and weight, the two species actually broadly overlap in body size. Adult female bonobos are somewhat smaller than adult males. Body mass in males ranges from 34 to 60 kg (75 to 132 lb), against an average of 30 kg (66 lb) in females. The total length of bonobos (from the nose to the rump while on all fours) is 70 to 83 cm (28 to 33 in). The bonobo's head is relatively smaller than that of the common chimpanzee with less prominent brow ridges above the eyes. It has a black face with pink lips, small ears, wide nostrils, and long hair on its head that forms a parting. Females have slightly more prominent breasts, in contrast to the flat breasts of other female apes, although not so prominent as those of humans. The bonobo also has a slim upper body, narrow shoulders, thin neck, and long legs when compared to the common chimpanzee. Bonobos are both terrestrial and arboreal. Most ground locomotion is characterized by quadrupedal knuckle walking. They are the only apes that spend significant amount of time in bipedal walking, these physical characteristics and its posture give the bonobo an appearance more closely resembling that of humans than that of the common chimpanzee. The bonobo also has highly individuated facial features