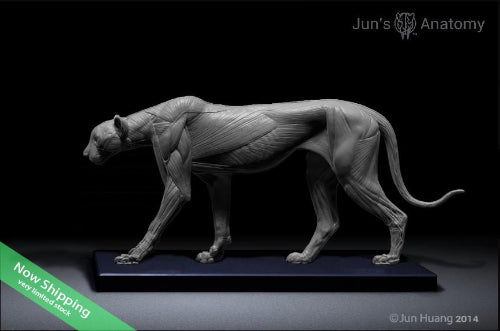 Cheetah Anatomy model 1/6th scale - flesh & superficial muscle
Note* Due to fluctuation in high cost of shipping costs, shipping charges may seem high, there maybe an initial overcharge actual shipping cost, I will continue to work with my dropshipper to recalculate shipping cost with every order and will continue refund any excess funds, it may take a bit of time.  Thank you for your patience!
At 1/6th scale this cheetah écorché is one of seven models in the "Big Cats anatomy écorché", it represents a large size cheetah at approximately 7.2 ft (220 cm) long, from tip of the nose to the tip of the tail, and a weight of approximately 145 lb . The cheetah model is created from references of the live animals, the head is sculpted on top of a 3D scanned skull of a very large cheetah.  The Cheetah Anatomy model is approx 10" long, highly detailed it shows superficial muscle on one side, surface anatomy on the other side.  It features a detachable head, this allows the option of switching to the Mouth-Opened "Roar" head(sold separately) for alternative reference.  This size of an anatomy tool is perfect as a desktop reference of anatomy for sculptor, or as animal anatomy for the artist; the size is design for ease of handling, for teaching, or study.  
This set includes the Mouth-closed head, the body, and large base. 
approximate size: 10" x 5 3/4" x 5"(including the large base)
plinth/stand for the Mouth-Closed head not included            
original sculpture designed, sculpted, and painted by Jun Huang
The cheetah is the fastest land animal, it can reach top speed of up to 109.4 to 120.7 km/h (68.0 to 75.0 mph).  Adult cheetahs are 70 to 90 cm (28 to 35 in) tall at the shoulder, males range in head-and-body length from 113 to 136 cm (44 to 54 in) with 60 to 84 cm (24 to 33 in) long tails, and weigh between 28.5 and 65 kg (63 and 143 lb); while females females range in head-and-body length from 113 to 140 cm (44 to 55 in) with 59.5 to 73 cm (23.4 to 28.7 in) long tails, and weigh between 21 and 63 kg (46 and 139 lb).   Males are slightly taller than females and have slightly bigger heads with wider  incisors  and longer mandibles.  The cheetah, unlike true big cats of the Pantherinae, it cannot roar but it can purr as it inhales, while the big cats can roar but cannot purr, except while exhailing.   It hunts prey animals such as preferring medium-sized prey with a body mass ranging from 23 to 56 kg (51 to 123 lb), comprising Thomson's gazelle, impala, blesbok, springbok, Grant's gazelle, reedbuck,   When available they also prey on steenbok, kudu, waterbuck, bushbuck, heartebeest, sable antelope, bat-eared fox, and less frequently they prey on ostrich, warthog, wildebeest, zebra, gemsbok.