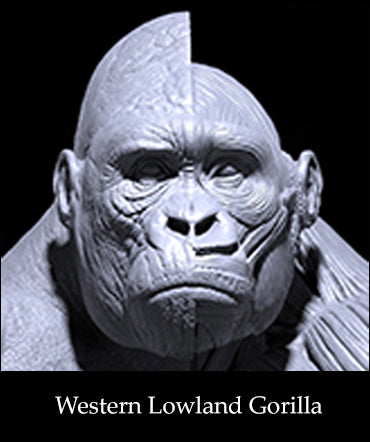 Western Lowland Gorilla Anatomy model 1/6th scale v.1
Note* Due to fluctuation in high cost of shipping costs, shipping charges may seem high, there maybe an initial overcharge actual shipping cost, I will continue to work with my dropshipper to recalculate shipping cost with every order and will continue refund any excess funds, it may take a bit of time.  Thank you for your patience!
Western Lowland Gorilla anatomy model 1/6th scale v.1
The Western Lowland gorilla écorché is one of seven models in the "Human & Great Apes anatomy écorché", the model is set at 1/6th scale, representing one of the the largest animal on record at over 6 ft in height weighting in at 500 lb - 600 lb.  This desktop size model is approximately 12" tall, it shows superficial muscle on one side, surface anatomy on the other side. Model shown here with mouth-closed head of Western Lowland Gorilla and Eastern/Mountain Gorilla. This size of an anatomy tool is perfect as a desktop reference of anatomy for sculptor, or as animal anatomy for the artist; the size is design for ease of handling, for teaching, or study.  
Product description:

this model contains: 1gorilla body/base, 1 Western Lowland gorilla Mouth-closed head(if you would like to purchase the Eastern/Mountain gorilla heads they are also available separately, they will fit on this body) 
 Note* Mouth-open western Lowland gorilla "roar" head and plinth sold separately.

 approximate size: 13" x 6" x 6" (including the base)
original sculpture designed, sculpted, and painted by Jun Huang
The gorilla, it is the largest primates of today, adult males weight 135 - 180 kg (300 - 400 lb), exceptional large individuals can weight up to 230 kg (500 lb), females are about half that weight.  Males gorillas are 1.7 to 1.8 m in height, 2.3 - 2.6 m arm span.  Despite its intimidating appearance, the gorilla is a relatively gentle giant, foraging on the jungle ground for its vegetarian diet.  There are 3 subspecies of gorillas, all living in central Africa, the Western lowland gorilla(Gorilla. gorilla), these are the ones you see in zoos around the world, they have a very distinct face.  The other slightly larger is the Eastern lowland gorilla(Gorilla. beringei. graueri)  and the mountain gorilla(Gorilla. beringei. beringei), the two eastern subspecies are now classified as Gorilla. beringei.