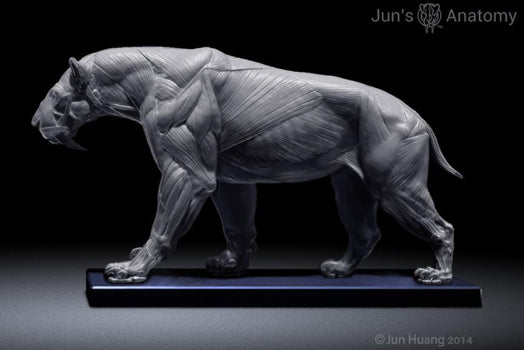 Smilodon Populator "Saber-tooth Cat" Anatomy model 1/6th scale - flesh & superficial muscle
Note* Due to fluctuation in high cost of shipping costs, shipping charges may seem high, there maybe an initial overcharge actual shipping cost, I will continue to work with my dropshipper to recalculate shipping cost with every order and will continue refund any excess funds, it may take a bit of time.  Thank you for your patience!
At 1/6th scale it represents the largest specimen at approximately 120 cm(47.25") tall at the shoulder, and 209 cm (82 ") from tip of the nose to the til of the tail.  This Smilodon model is sculpted based on reference of actual skeletons, and the head is reconstructed on top of an actual 3D scan of Smilodon Populator. The desktop model is approximately 13 inches long, the whole animal is very robust and massive, it is the heaviest model in the Big Cats series. The model shows superficial muscle on one side, surface anatomy on the other side.
It features a Mouth-Closed detachable and interchangeable head, this allows the option of switching to the Mouth-Opened  "Roar" head(sold separately) for alternative reference.   
This size is perfect for desktop reference, handling, teaching or study.  
This set includes mouth-closed head, body, and large base only. 
Note. Mouth-Opened  "Roar" head(sold separately) please refer to this link for purchase    https://www.junsanatomy.com/collections/big-cats-anatomy-models/products/smilodon-anatomy-model-open-mouth-roar-head-variant-16501305985
approximate size: 13" x 7" x 5"(including the base)    Stand for the Mouth-Closed head not included.
original sculpture designed, sculpted, and painted by Jun Huang
 Smilodon populator lived around 1 million–10,000 years ago; in the eastern parts of South America.  At a shoulder height of 120cm and body length of 209 cm(82 in), with a body mass range of 220 to 400 kg (490 to 880 lb); it was the largest of the Smilodon species, at around 15-20% larger than the North American species that includes Smilodon. Fatalis(from1.6 million–10,000 years ago, it had a shoulder height of 100 cm (39 in) and body length of 175 cm (69 in), 160 to 280 kg (350 to 620 lb)in body mass),  and Smilodon gracilis(from 2.5 million–500,000 years ago; the smallest and earliest species, estimated at 55 to 100 kg (120 to 220 lb) in weight).  Smilodon Populator had a more elongated and narrow skull, higher positioned nasals, more massive metapodials and slightly longer forelimbs relative to hind limbs.
 Shown below with Mouth - Open Head.