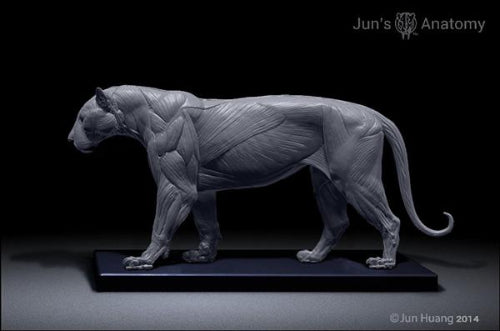 Tiger Anatomy model 1/6th scale - flesh & superficial muscle
Note* Due to fluctuation in high cost of shipping costs, shipping charges may seem high, there maybe an initial overcharge actual shipping cost, I will continue to work with my dropshipper to recalculate shipping cost with every order and will continue refund any excess funds, it may take a bit of time.  Thank you for your patience!
At 1/6th scale the tiger écorché is one of seven models in the "Big Cats anatomy écorché" series, it represents the average size tiger at approximately 10 ft long . You may set different scale as you see fit. For example, if at 1/9th scale, it would represent the biggest tiger on record of over 12 and a 1/2 ft long from tip of the nose to the tip of the tail.. The anatomy of the tiger model is recreated from reference to the actual animals, the head was created on top of a 3D scan of a Siberian tiger skull, the rest sculpted on top of a skeleton.  Tiger Anatomy model is approx 13" long, it shows superficial muscle on one side, surface anatomy on the other side. It features a detachable head, this allows the option of switching to the Mouth-opened "Roar" head(sold separately) for alternative reference.  This size of an anatomy tool is perfect as a desktop reference of anatomy for sculptor, or as animal anatomy for the artist; the size is design for ease of handling, for teaching, or study.  
This set includes mouth-closed head, body, and large base.
approximate size: 13" x 6 1/2" x 5"(including the base)            Stand for the close-mouth head not included.
original sculpture designed, sculpted, and painted by Jun Huang
The Siberian tiger (Panthera tigris altaica),  it is the top land predator of the Asian continent, with top speeds of 40 mph, it is the biggest living cat in the world.  The wild Siberian tiger averaging 450 to 585 lbs in weight and 10 to 11 ft in length from nose to tail, with a few exceptions exceeding 700 lbs with a skull of approximately 16 in. long.  Tigers prey on animals of all kinds of sizes, from rabbits, to wild boars, to moose and brown bears.  Although the anatomy of lions and tigers are very similar, from a technical standpoint, they have slightly different body proportions, lions have a relatively large head and smaller body, while the tiger have a small head and relatively large body, the tiger usually have a slightly longer proportion torso than the lion. 
Shown below with the Tiger Mouth - Open Head.